Description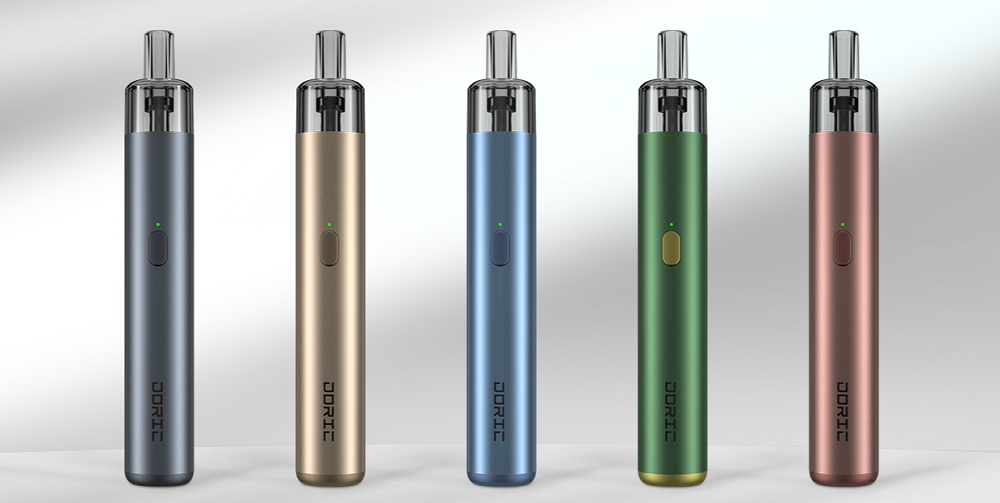 The Doric 20 offers the assurance of having a kit with ideal dimensions for transporting and holding. Voopoo has made it compact with dimensions of 124 x 19 mm and has given it a tubular shape that fits the hand. This means that the user can carry it wherever they want. It can be carried in a pocket or a handbag without any problems.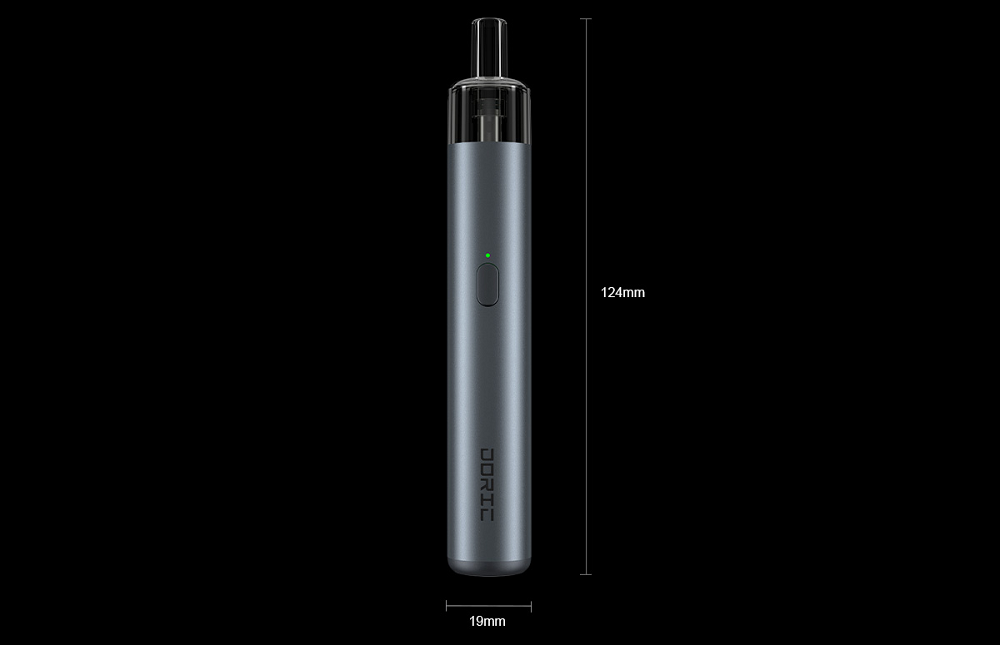 The aesthetics is full of sobriety, without excess, and the user will appreciate the fineness of the touch thanks to a manufacture in aluminium alloy. The pod has a system at the base that allows it to stand upright.
Undeniable technical qualities, ease of use
The performance is also there. The Doric 20 kit delivers a variable power between 8 and 20W. It is automatically adjusted according to the coil installed and according to 3 levels. The pod also has an integrated battery whose autonomy of 1500 mAh offers the possibility of vaping all day. Then, as for the recharging, it is done in 1 hour via a USB type-C cable (provided).

The user will also find the kit simple to use. The Doric 20 has only one main button and an LED light. In addition, there are 2 activation modes :
Automatic draw
Inhalation by pressing the main button
Finally, the battery accepts coils with a value between 0.7 and 1.2 ohm and the user will be able to enjoy vaping sessions in complete peace of mind thanks to 7 protections.
Innovative pod design
The Doric 20 is combined with an ITO pod made of PCTG. It has a capacity of 2 ml. The pod is filled from the side and the transparency of the pod allows the user to see how much liquid is left at all times.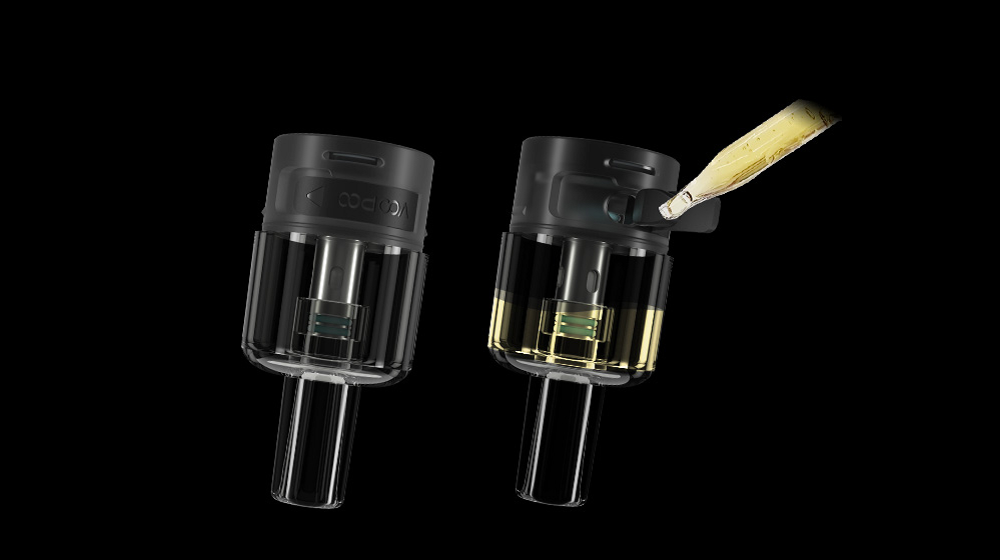 The top of the battery has an adjustable airflow with 3 perforations of different diameters. This pod also has an innovative design that allows the condensate to be stored in a space provided for this purpose. The battery will then be protected from seepage and the condensed liquid is removed when the pod is removed.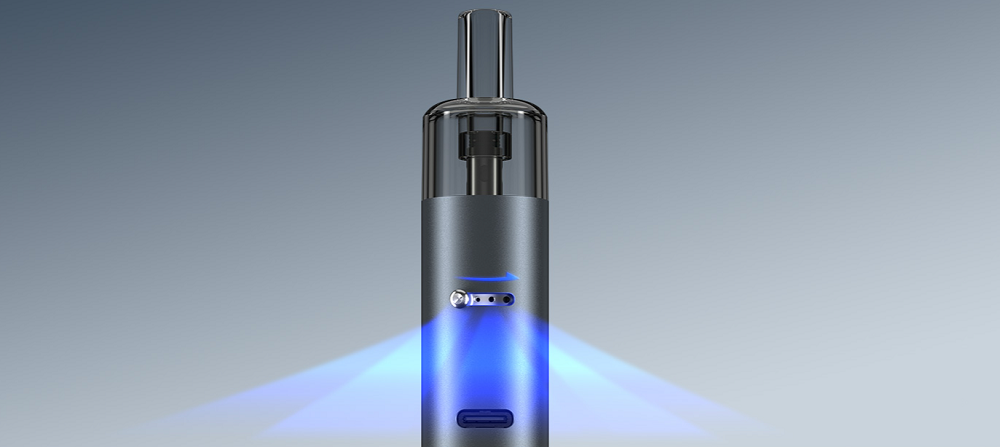 Finally, this pod is compatible with Voopoo's ITO coils. These use the manufacturer's patented technology, which improves the heating speed and offers a powerful flavour. 2 ITO coils are supplied with the kit :
An ITO-M2 coil with a value of 1 ohm (recommended power : 12W)
An ITO-M3 coil with a value of 1.2 ohm (recommended power : 10W)
In the end, a high quality MTL vape awaits the user.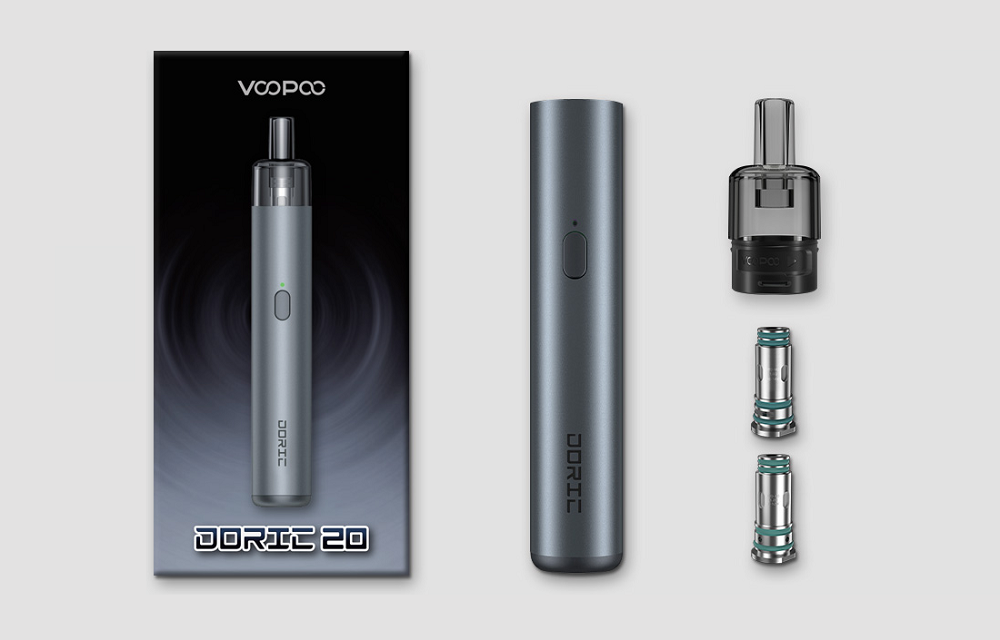 With these qualities, the Doric 20 is therefore able to take its place among the best performing pods on the market. A consistent flavour is guaranteed from the first to the last puff. Beginning users will be delighted to own such a product.
Contents : 
1x Doric 20 device
1x ITO pod
1x ITO-M3 1,2 ohm
1x Type-C Cable
1x User Manual
DATA SHEET
| | |
| --- | --- |
| Device type | Kits & Packs, Pods |
| Kits | Beginner |
| Kit type | Pod kits |
| External battery type | Integrated |
| Battery life | 1500 mAh |
| Micro USB | Charging only |
| Maximum output | 18W |
| Draw | MTL |
| Adjustable airflow | Yes |
| Capacity (ml) | 2 ml |
| Refill | Bottom |
| Drip tip type | Others |
| Connector | Others |
| Electronic protections | Yes |
| Coils | 0.5 to 1 ohm, More than 1 ohm |